Alumni Stories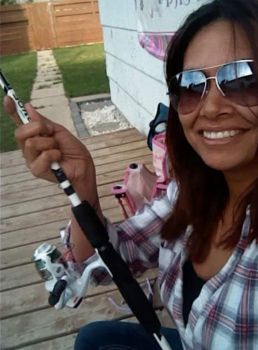 Leona Sanderson
University
"Being an older student has taught me a lot and showed me a side of myself I never knew was there. "
As the mother of 4 children, Leona promised herself that when her children were all in school full-time, it would be her turn at education. As she says, it is never too late to follow your dreams and if you want it, go for it. As a full-time wife and mother who has a passion for beading and sewing dance regalia for her children, Leona came to Cumberland College to complete her Grade 12 diploma. Having accomplished that, in September, 2020 she started her university career at the College in Melfort as it is close to her home on James Smith Reserve. Leona decided on Sociology as her area of study as she wants to make a difference in the lives of others and this career path will allow her to do so.
Leona is proud to say she was raised by a single mother who struggled but managed to give her children the best life she could. Returning to school as an adult has also taught Leona many things about herself that she was not aware of. Facing barriers she never thought she would have to, including being online instead of in a classroom, learning how to navigate the web, and losing loved ones while in school, Leona has managed to push herself and not give up. She is pleased that she has shown her children that anything is possible.
Leona would like to thank the staff at Cumberland College for all their help in getting her to where she wants to be. The friendly staff that is always there to greet you with a smile and make you feel welcome as well as help in any way is her favorite memory of the College. She is also grateful for the friendships she has formed while attending school. A winner of the Alex Prytula University Award, Leona found the extra money particularly helpful as she did not have any other income at the time. This scholarship is just one of the many awards available to students attending post-secondary education at Cumberland College.
Congratulations on winning your scholarship, Leona and on being such a wonderful role model for your children. Good luck as you continue your studies!
Leona took
University
classes while attending Cumberland College.