Alumni Stories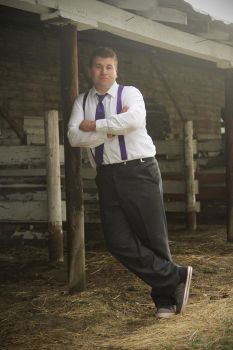 Nick Carson
Industrial Mechanics
""
Nick Carson was born and raised in Nipawin with a passion for all things hands on. He would spend his time helping his father work on vehicles in their yard and sleds to race during the winter months. Nick attended L.P. Miller Comprehensive high school where he was able to take classes such as welding, mechanics, machining, electrical and carpentry. He loved each of these classes for different reasons so when it came time to apply to post secondary school, he was at a loss of what he wanted to apply for. Nick also did not want to have to leave behind his hometown to attend school. All of Nick's friends knew the paths that they wanted to take but it was a harder decision for Nick.
After Nick graduated from L.P. Miller in 2014, he worked for a few years before applying in the Industrial Mechanics course here at Cumberland College in Nipawin. Deciding to do the Industrial mechanics was still not an easy choice for Nick but one that would let him explore more of all the hands-on work he learned to love in high school. By being able to take his first year of Industrial mechanics in Nipawin, this allowed him to be able to stay at home with his wife and close to his family while attending school.
Nick attended the Industrial mechanics program in Nipawin starting in January 2020 and ending in June 2020. During this time is when the Covid pandemic hit and school moved from being at the college to students having to stay at home and start having online classes. Industrial mechanics is a difficult course to take online because of all the shop projects that students had complete. Nick was determined and still managed to get all his assignments and projects done.
After successfully completing the program in June, Nick worked a seasonal job where he could put to use the new skills that he learned at Cumberland college. When the season was over, Nick found a local job where he could gain the hours that he needs in order to take his second year of schooling. Nick is planning on attending Saskpolytech in the fall of 2023 to continue his education in Industrial mechanics. After he gets his Journeyman in Industrial mechanics, he wants to go back to school again for another, undecided, trade where he is hopeful that he can obtain his first year at Cumberland college again because of the encouraging, positive experience he had the first time.
Nick took
Trades
classes while attending Cumberland College.