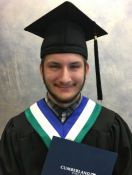 "The primary reason I choose Cumberland College for my education because it was close to my home. I was able to live at home the first year, save money, and not be homesick. It made for an easier adjustment for me to start post –secondary. "
Sheldon graduated from Star City School in June 2017. In the fall of the same year, he enrolled in the Recreation and Community Development program at Cumberland College in Tisdal...

Click to read Sheldon's story...