Cumberland College Embarks on an Indigenizing the College Initiative
February 26, 2015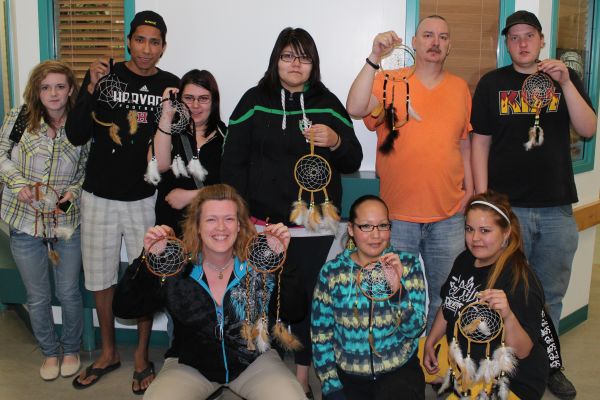 Dreamcatcher Workshop
Cumberland College recently embarked on an Indigenizing the College initiative. As one of its five Strategic Directions, Cumberland College is the only Regional College in Saskatchewan (and one of only a handful of colleges across the country) to introduce such an initiative. As the preamble to Cumberland College's Indigenizing the College initiative explains, "It is commonly understood that First Nations and Métis learners confront persistent barriers to learning and employment. What is less frequently understood is that these learning barriers stem from the absence of Indigenous knowledge and praxis in the college setting. At the same time, Aboriginal communities across the country are staging a positive resurgence that involves leadership development, post-secondary education at all levels, economic and social development, and increasing levels of prosperity on their own terms. In this respect, Aboriginal people are succeeding, thriving, and continuing to contribute to the fabric of what is Canada. While more work needs to be done in these areas, Aboriginal communities are actively and positively determining their own futures."
"Cumberland College has very strong and positive relationships with the Aboriginal communities within its region and serves Aboriginal students well," explains Cumberland College President, Dr. Tom Weegar, "but there's always more we can do." For example, an opportunity exists to work in greater partnership with Aboriginal communities throughout the region. To this end, Cumberland College has recently established a First Nations and Métis Advisory Council and will use this council to provide leadership around how to undertake programs and services to better serve Aboriginal students and Aboriginal communities.
Under the Indigenizing the College Strategic Direction, Cumberland College will undertake a number of initiatives including to establish a First Nations and Métis Advisory Council to oversee the Indigenizing the College process; to establish an Elders-in-Residence program to guide students and provide them with cultural support (and to support faculty and staff around the Indigenization process); to undertake training around Indigenizing the College to better inform faculty, staff, students, and community members about the Indigenization process; to implement a Representative Workforce Strategy to enable the College's workforce to better reflect the nature of the regional population; to encourage and support instructors to incorporate Aboriginal resources and materials into their respective courses and programs; and to develop a better understanding and appreciation of the holistic needs of Aboriginal students and how we can best address these needs socially, culturally, emotionally, and physically.
"Through the Indigenizing the College process," Dr. Weegar explains, "we hope to facilitate a greater understanding about Aboriginal issues within the region and we hope to facilitate dialogue between Aboriginal and non-Aboriginal communities about issues of importance to us all." Through this dialogue, Cumberland College believes the Indigenizing the College initiative will create a stronger, more prosperous region overall.
For more information, contact:
Brenda Mellon
Marketing and Continuing Studies Manager
Cumberland College
Phone: (306) 752-8105
Fax: (306) 752-3484
bmellon@cumberlandcollege.sk.ca