Re-Open Saskatchewan Training Subsidy Extended
April 19, 2021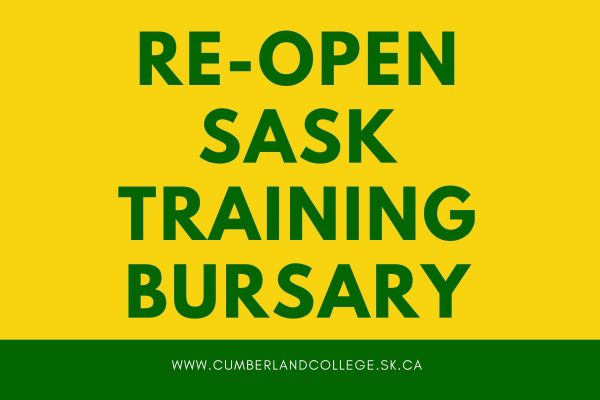 The Re-Open Saskatchewan Training Subsidy (RSTS) program has been launched in response to the COVID-19 pandemic. The program is an employer-driven, short term training program that provides eligible employers with financial support to train employees.

Funding to support training can help employers adjust to the impacts of the pandemic and safely align business activities with the re-opening phases of Saskatchewan's economy.
Cumberland College delivers a number of courses and training opportunities that can be modified to fit the training needs of employees.
Benefits:
Training support through the RSTS program will ensure employers have access to training to maintain business activities while continuing to promote workplace safety and stimulate competitiveness without a financial burden;

Employers select the trainee(s) and the training program;

100% reimbursement to eligible employers for approved training;

Approved employers will receive 33% of the cost of training upon entering into a training agreement with the government. The remaining 67% will be paid upon completion of final reporting and verification of actual expenditures; and

The maximum payment is $10,000 to eligible employers for the RSTS Program.
Employer Eligibility Requirements:
To be eligible, employers must be on the Government of Saskatchewan's list of critical public services and allowable businesses during the emergency period, or eligible to resume operations in a confirmed phase of the Re-Open Saskatchewan Plan.
The list of critical public services and allowable businesses is updated periodically as the provincial economy reopens to services and communities, and will be used to identify eligible employers.
Publicly funded organizations such as health regions, post-secondary training institutions, public libraries, municipalities and school divisions are not eligible under this program.
Self-employed individuals are not eligible to participate as RSTS supported trainees.
Training
Training is flexible. Employers choose the training program and mode of delivery that will meet their needs within the following requirements:
Must be delivered by a Saskatchewan based third party not affiliated with the employer;

Must be a minimum of 8 hours in length per trainee by the same training provider and completed within 4 months; and

Must result in a credential (record of completion, certificate, grade, etc.).
Application Process
The application deadline has been extended until June 30, 2021!
For more information: http://www.saskatchewan.ca/training-subsidy
Connect with Cumberland College and we will be happy to discuss your training needs!