Orange Shirt Day
September 29, 2020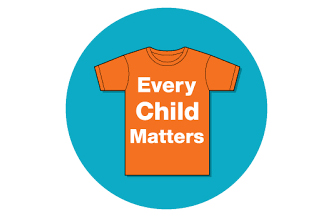 On September 30, be sure to wear orange to show your support for Orange Shirt Day and the message that "Every Child Matters". Orange Shirt Day is a national movement in Canada that honours residential school survivors and the children that did not make it home from those schools. Started in 2013, the movement has spread across the nation with millions of people showing their support by participating in a variety of events.
Unfortunately, due to COVID 19, we are unable to host the annual Round Dance that in the past has had such amazing involvement from our College, our partners and our local communities. Instead of the Round Dance, we are pleased to share with you a video made by the Elders, Knowledge Keepers, students, and staff from Cumberland College regarding the importance of recognizing Orange Shirt Day. Everyone who spoke had meaningful messages to impart and it took a great deal of courage to be videotaped. We are honoured to have this recording and hope it helps us on the path to reconcile our past with the present.
Please complete a very short survey before watching the 22 minute locally produced Orange Shirt Day video. The survey is anonymous but is required by our grant funders, the New Horizons for Seniors program and the National Indian Brotherhood.