World Food Day - Oct 16
October 7, 2020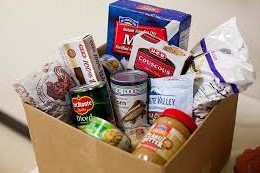 World Food Day (WFD) was founded by the United Nations' (UN) Food and Agriculture Organization (FAO) in 1945, and has been observed annually, every October 16, since 1981. The event was established to increase awareness of world hunger and poverty and to inspire solutions for world change.
"Reflecting about WFD I am thankful for relationships – about how food brings families together. When I was younger, Sunday meals were a big family gathering. There was an expectation that we would come together to eat, share updates, laugh, and feel the family bond. Being with my own wife and children, meal times continue to be a time to eat, share updates, laugh and just be together.
I am very fortunate to those childhood memories and to be able to create similar memories for my kids. I am also aware that this is not true for other families. I know that through the work of our community agencies like the Melfort Food Bank, they assist the most vulnerable families in our community who view food as a daily necessity for survival.' saya Gene Mak, Community Outreach Worker and ABE Advisor, Cumberland Regional College
The Melfort Food Bank's mission is "to help people in our area access quality food when they are in need while preserving their dignity and promoting the independence and confidentiality of any person who requires assistance." says Fran Bakker, Treasurer, Melfort Food Bank
Regarding World Food Day, what the directors and volunteers at the Melfort Food Bank think about is addressing food security for all people regardless of age, race, gender, or employment status. "Our goal is always to do the best job that we can to ensure that we can give people nutritious food when they need it. As an organization, the thing we are the most thankful for would be the support of our community for those in situations of need. We are strictly volunteer operated and receive zero government funding so that support is essential to our ability to help those who need a hand up. Ultimately, we would like our community to realize that the misconceptions that surround what we do are unfounded and the facts are that we serve almost as many children as we do adults and many of the adults we serve are seniors. Our hope for World Food Day is that those who have abundance will give some of that abundance to those who are not in such a position for the simple joy of helping a fellow human being." says Baker
As you read and reflect about WFD, consider those less fortunate in your circle of influence. Make a difference in the lives of others who need a helping hand up.