Cumberland College adds more certification programs for local learners
January 5, 2022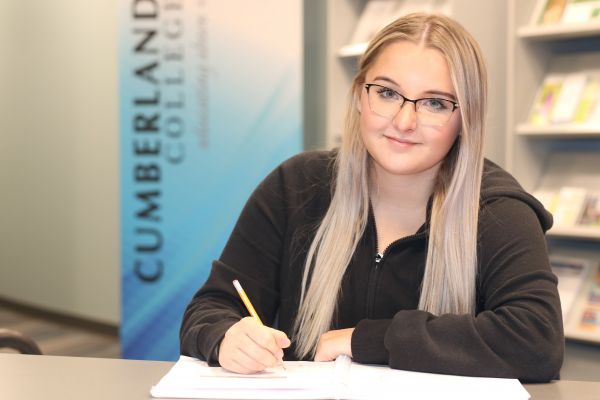 Opportunities to gain certification close to home continue to grow. Cumberland College has added the Occupational Health and Safety Certificate and Health Care Cook Certificate programs for Fall 2022.
Providing training directly related to high-demand areas in the northeast region is a focus of Cumberland College, explained Chair of Post-secondary Education, Jeff Fisher. "By offering post-secondary programs locally, we can focus on the needs of our region, not only from the student perspective but also an employer's standpoint."
Along with selecting programs specifically for our area, the college also provides programs of different lengths. Cumberland College has 2-year diploma programs and some university degree options, as well as those that students can complete within a relatively short time and then move directly into employment in high-demand fields.
These new programs are two more options for people looking to do that without moving away. The 39-week Occupational Health and Safety Certificate program begins at the end of August 2022. With the wide range of industries requiring the services of this profession, graduates train for a career in various sectors from transportation firms to educational institutions to oil and gas companies.
Fisher said, "More and more employers are definitely requiring that their occupational health and safety officers are fully trained and certified in order to perform the duties of that job properly."
The program is meant for people at various stages of their career. Fisher pointed out that students can potentially begin right out of high school and then enter the field straight out of the program. It also attracts those already working in the OHS field who want to become fully trained and certified. Prior Learning Assessment and Recognition (PLAR) means their existing skills and knowledge from their experience working in the industry could be eligible for course credits.
When planning what programs to offer, Cumberland College considers feedback from numerous sources including students and local employers. Fisher noted that the new Health Care Cook Certificate program is an example of the college responding to the region's needs.
"Saskatchewan Health Authority came to us and said there are all these really great cooks that have a lot of practical experience in cooking that aren't trained in the specific needs of healthcare facilities." The college was already interested in the program, and SHA's interest confirmed the choice.
Healthcare cooks work in various settings like care homes, hospitals, and care facilities. Preparing food for patients and residents in these settings requires specific skills such as meeting diet modifications and nutritional requirements.
The program covers the basics like cooking fundamentals and safe practices in commercial kitchens, so it's a great fit for students without previous professional cooking experience. It's also for current cooks looking to expand their skills and move their career into a healthcare setting. These cooks with commercial food prep experience can potentially convert their existing skills and knowledge into potential credits for the program.
Along with industry-specific skills such as preparing for off-site services like Meals on Wheels and menu modifications for specialized diets, the program has regional-specific learning as well. Students learn elements of Indigenous culture and how to adapt menus to prepare meals for residents and patients who follow traditional food practices.
Along with these two new programs, Cumberland College is also offering the Building Systems Technician Certificate again. Fisher said a very high percentage of graduates from the last time were employed very quickly. He chalks it up to the diverse nature of this program. "This program trains students in a variety of ways from HVAC to boilers to general maintenance, and these individuals come out of that program trained in a variety of different areas."
He continues, "School divisions, municipalities, recreational facilities, those are the kind of employers that would find these people especially useful in their organizations. …these buildings don't run themselves, so these skilled tradespeople are really in high demand to operate these facilities effectively and efficiently."
Along with the existing selection of programs and courses, Fisher makes the point that Cumberland College is always interested in suggestions on how to help meet the training needs of the northeast region's employers and workers. "We're always listening and always looking for new and interesting ideas and potential program areas. People are more than welcome to reach out and let us know what they're thinking."
For more details on any of these programs, or for information on how to apply, start at the Programs and Courses page at Cumberland College's website.