Agriculture Sciences Certificate Open House
June 9, 2022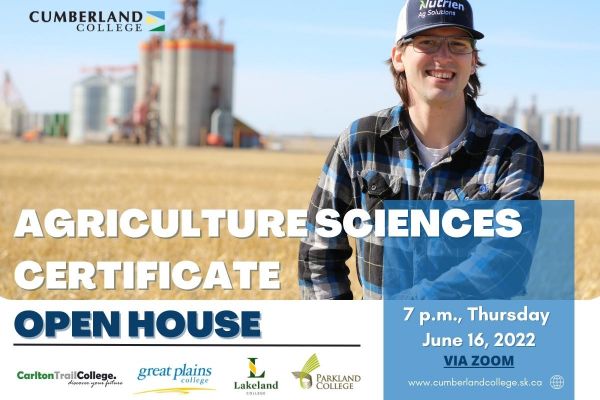 Join us on June 16 to learn more about this unique General Agriculture Sciences Certificate that focuses on Crop Production. Dig into both the science and business of the crop sector by learning agronomy, precision farming, sustainability, and financial management.
You will have the opportunity to study in a blended format that includes face-to-face, virtual, and hands-on learning delivery with a cohort of students from across the province. The course schedule will allow you the opportunity and flexibility to work in the Agricultural sector while enrolled in the program.
At our open house, learn about the Agriculture Sciences Certificate and how it ladders into a Diploma and Degree, academic advising, personal supports, and financial services.
Link to Zoom Session https://cumberlandcollege-sk-ca.zoom.us/j/86920955867?pwd=YW0wQ29LQkMyM05zSmtIaVVyQmVOQT09