Youth Care Workers Reach the Finish Line!
June 20, 2022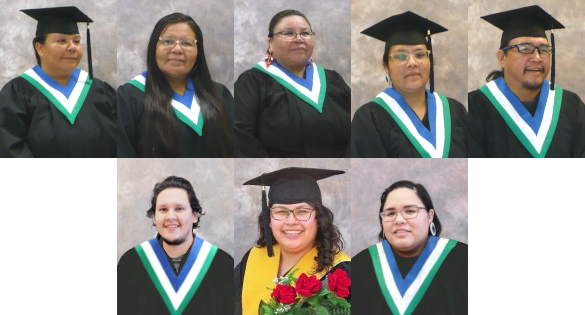 Youth Care Worker Certificate Graduates top (L to R): Aldina Lathlin, Melita McKay, Ruby McLeod, Angelique Nawakayas, Leslie Nawakayas
Bottom (L to R): Gerald Favel, Jenine Burns, Kayla Bear
Thanks to Gene Mak for the photos!
On June 24, 2022, the members of the Youth Care Worker Certificate program completed a long and arduous multi-year journey. Some of these students first set foot in the College in 2012, enrolled in both Sask Polytech and University programs before joining a Youth Care Worker cohort in 2018.
The students balanced an intensive class schedule with their demanding work schedules at Nechapanuk Child and Family Services, lengthening the program far beyond the usual one-year calendar for a Certificate program. This group endured personal hardship, community concerns, illness, and an unusually challenging first Practicum. Through it all, the students remained determined to see through the program to the end and earn their Certificates.
The group was on the verge of beginning its second and final Practicum to complete the Certificate in March 2020 when COVID-19 struck and shut down all face-to-face programming. This ended the Practicum before it began and left the group waiting. Sask Poly had drafted a remote version of the Practicum by April, but by then the College Campus was closed until Fall 2020. The aftereffects of COVID left numerous agencies unable to take placements for over a year. After numerous tries, the College was able to secure a Practicum for October 2021, but a last-minute cancellation by the host agency left the group in limbo again.
After many more agency rejections, Linda Cairns of PAGC graciously agreed to host the final remote Practicum in May 2022. All the members of the waiting group were able to join. Once again, the group managed the PRAC workload along with the caseloads in their communities but did so with determination, grace, and winning attitudes. As of the end of June 2022 - after so many obstacles, setbacks, and delays - the Nechapanuk group finally passed Practicum 2 and earned the Youth Care Worker Certificate.
Congratulations to Aldina Lathlin, Melita McKay, Ruby McLeod, Angelique Nawakayas, and Leslie Nawakayas. Congratulations also to Gerald Favel, who completed a face-to-face PRAC in his home community of Cumberland House, and Jenine Burns and Kayla Bear, who gained employment with Nechapanuk in Shoal Lake. This YCW group fought for every step of the program and deserves special recognition for one of the most hard-earned completions ever seen at the College.
You reached the finish line!