Cumberland College Welcomes Ukrainian Newcomers
January 30, 2023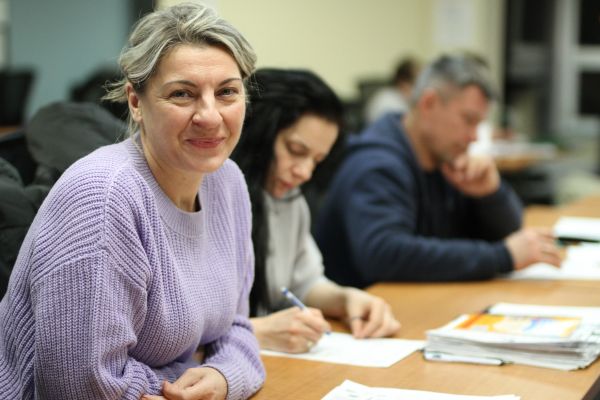 Conversation Circle Class in Tisdale
Cumberland College has been offering English Language Classes for Newcomers for over 30 years, but 2022 saw an increase in the demand for this type of training. Many newcomers fled their home country of Ukraine and relocated to the Cumberland region with the hopes of finding safety and starting over. In response to this sudden influx, Cumberland College extended the offering of a program called "Conversation Circles" to Tisdale and Melfort.
According to Brenda Mellon, Manager of Learner Services, Conversation Circles is an informal program where participants not only practice conversational English but are also given the opportunity to develop friendships with other newcomers and learn about working, life and culture in Canada.
One of the facilitators for this program, Valeria Ghein, is a newcomer who arrived from Ukraine just over a year ago. Ghein was first introduced to Cumberland College when she enrolled in an Early Childhood Education course. Her experience at the College exposed her to the Canadian education system and the many opportunities she had. Before long Ghein started facilitating the Conversation Circles program for the College in Tisdale. Ghein explained "the biggest benefit of me being an immigrant myself is that I understand what my students are going through as newcomers. I tell them about my experiences and prepare them for the challenges I faced when I moved here." In addition to improving their English skills, Ghein shared that the program helps newcomers become a part of the community and make new friendships. When asked what advice she would give newcomers who recently arrived in Canada, Ghein said, "Don't be afraid to go out and meet new people. The classes I teach are very close-knit and friendly. The newcomers become good friends while learning English. I think it's wonderful that they have each other, they get to share the experience of learning about Canadian culture. They practice their English-speaking skills together outside of class, as well as arrange social meetings to catch up with each other." Ghein shared that "being a newcomer can be very isolating and stressful but the campus is a safe place where students feel self-acceptance and a sense of belonging."
Cumberland College offers a wide array of English Language classes throughout the region that are free for eligible participants due to funding provided by Immigration, Refugees and Citizenship Canada and the Government of Saskatchewan. In communities where a face-to-face course is not offered, newcomers may be eligible to participate in online courses or receive language training from an English Language tutor. For more information or to be assessed for English Language Classes, contact Lynda McPhee at 1-306-873-3841.