Cumberland College and Parkland College Move Ahead With Merger
January 20, 2023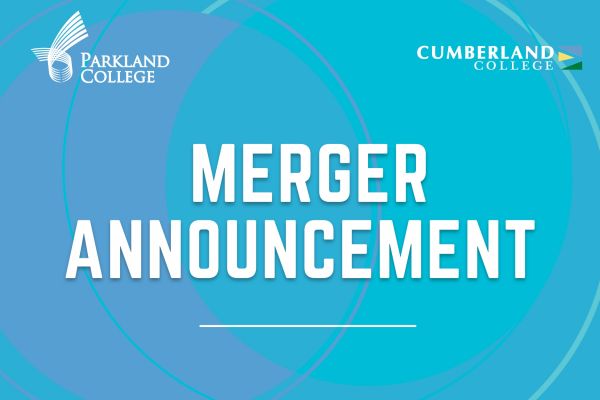 Cumberland College and Parkland College will move forward and merge the two colleges effective July 1, 2023. Approval of the merger was received from the provincial government this week. The colleges have been operating as a coalition since 2019 through a shared CEO and Board of Governors.
Interim President and CEO, Alison Dubreuil, explained that the merger will better position both colleges to serve their learners and communities through shared resources, increased partnership opportunities and the development of new programming. The new college will be based on shared values and an equal partnership that will support the local labour market and demands of a growing Saskatchewan economy.
Ray Sass, Cumberland and Parkland College Board of Governors Co-Chair explained that "by merging Cumberland College and Parkland College, we will be stronger together. This will position our merged college to be more robust and provide the opportunity to offer more programming to recruit and retain more students."
Corinna Stevenson, Cumberland and Parkland College Board of Governors Co-Chair stated that "the post-secondary landscape in Saskatchewan and Canada is increasingly competitive and we know significant change and innovation is required to ensure we continue to meet the changing needs of our students, communities, and partners."
"Saskatchewan's Government fully supports the merger of Cumberland and Parkland Colleges," Minister of Advanced Education Gordon Wyant said. "By combining resources, the colleges will be better able to expand programming offered to students and increase opportunities for staff."
The colleges will spend the next five months preparing for an official merger to take place later this year. The merger will follow a phased approach while ensuring student success and staff support continue to be a priority.
While the new merged college will still have the same student-centered approach to support diverse learners throughout our region, the college will go through a rebranding process resulting in a new name and logo. Dubreuil stated "our rebranding will reflect our shared values which includes us being an innovative, inclusive, relevant and responsive centre for adult education."
-30-

About Cumberland College:
Since 1975, Cumberland College has been providing high quality training and education programs for adults in northeastern Saskatchewan. Campuses are located in Nipawin, Melfort, and Tisdale.
About Parkland College:
Parkland College provides high quality, learner-centered education and training as a foundation for lifelong success. The college offers a superior learning and campus experience with locations in Yorkton, Melville, Fort Qu'Appelle, Esterhazy, Canora and Kamsack.
For more information contact:
marketing@cumberlandcollege.sk.ca
marketing@parklandcollege.sk.ca
Phone: 306.786.2580