Cumberland College Students Awarded $113 730 in Scholarships and Awards
March 17, 2023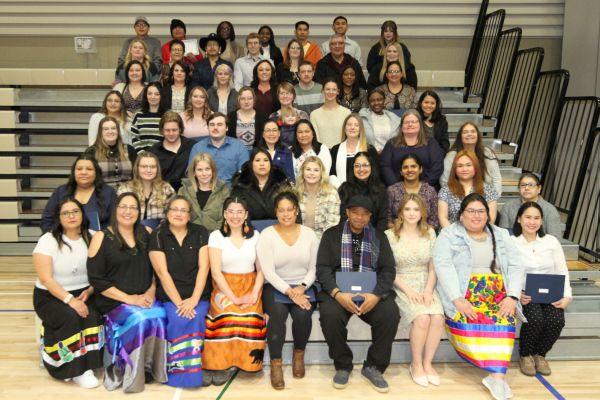 80 students were the recipients of 106 scholarships and awards totalling $113 730.
Cumberland College celebrated, recognized, and honoured their students on Friday, as part of their annual scholarships and awards ceremony.
The festivities marked the first in-person event of its kind, since March of 2020, with this year's ceremony being held in Melfort.
NortheastNOW was at the ceremony and spoke to Brenda Mellon, the manager of learner services, about what it was like to celebrate their students, once again.
"It was just so rewarding to meet again, face to face after the hiatus with COVID," she said. "Wonderful to celebrate with the students their families and our partners, all together under one roof."
The college gave out a total of 106 awards to 80 different students, as the scholarships and bursaries totalled $113,730, and $46,000 of which came from the provincial government.
Each student was attending a university, technical or adult basic education program, with the awards being provided by businesses, organizations, and individuals throughout the region and beyond.
"We have students from all different backgrounds and they're involved in many different programs at the college, and I know they're all so grateful for the generosity of our donors who continue to support them," added Mellon.
"It's been a priority for Cumberland college to focus on scholarships for students, we know it's important, as the students are so deserving. We've been so grateful for the local support from donors, like community groups, as well as national foundations who've continued to support us year after year."
Award winners also varied in age range, as students were in their 20's, 30's, 40's, and beyond.
Mellon explained the college believes it's never too late to return to school, whether it be to catch up on education previously missed or to start something completely new.
"We've had students right out of high school, but then we've also had students in through their 80s actually taking university courses in the past, so we serve adults of all ages."
Students also represented every corner of the northeast, as the college has campuses in Melfort, Tisdale, and Nipawin.
Mellon recognized Cumberland's ability to service a large area and help students financially, with anything and everything.
"We have a strong history within the Northeast, we're close to celebrating 50 years as Cumberland college, and we're really pleased to be able to provide local educational opportunities for the residents," she mentioned.
"I know students appreciate the funds because it goes towards their tuition, their books, their housing, gas money, etc, so it's really appreciated when students are living on a limited budget."
- Article written by Ben Tompkins at news@Northeastnow.com
2022-23 Scholarships and Awards Program