Cumberland College Launches Win Your Tuition Contest
May 8, 2023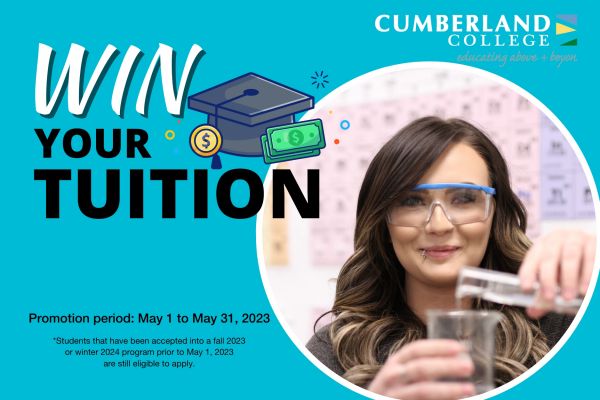 For students who have been thinking about applying to a post-secondary education program at Cumberland College, there has never been a better time to apply than now. The College is hosting their biggest promotional campaign ever – a chance for one lucky student to have their tuition paid for! Students who are accepted into one of Cumberland's full-time programs before the end of May can enter for a chance to have up to $7000 of their tuition paid for.
Vice President, External Relations, International, & Research, Kami DePape, explained "This promotion is a way for us to thank our surrounding communities for supporting us over the years. It's no secret that the cost of living is on the rise, and for many individuals, this could mean becoming a full-time student is just not feasible. This promotion might help train one more nurse, mechanic or paramedic, meaning our region has at least one more trained professional who will hopefully stay and pursue a career here."
The contest application process is simple; once a student applies to one of Cumberland's full-time programs, they will need to complete an online form which includes a short explanation on why they chose Cumberland College and what their educational and career goals are. All eligible entries will be entered into a draw with a winner being selected at random in August. Students who have already applied or been accepted to a program are also eligible for the promotion.
DePape explained that the College is working hard to make education more accessible to all students. In addition to the Win Your Tuition Campaign, Cumberland College boasts an incredibly robust scholarship program. This past April, the College gave out a total of 109 awards to 80 different students with a total of $114,000. "Even $1000 can make a huge difference when you are student, whether it's for tuition, textbooks or even groceries."
As the College approaches their official merge with Parkland College this July, one thing that will remain the same is the College's commitment to making education accessible to more students.
Official "Win Your Tuition" Promotion Rules:
The 2023 Win Your Tuition Promotion runs from May 1, 2023, to May 31, 2023 ("Promotion Period").
Prizes: There will be one prize of tuition reimbursement of up to $7000.
Due to varying tuition costs, the amount of reimbursement will be based on the tuition of the program the recipient has been accepted. The maximum amount of reimbursement will be $7000. If the program's tuition cost exceeds $7000, the winner will not receive more than $7000. To enter the contest, you must complete two steps:
Apply and be accepted to one of the programs listed below prior to May 31, 2023. Students who have been accepted prior to May 1st are still eligible.
Eligible Programs
Agriculture Sciences Certificate – October 2023
General Business Diploma – September 2023
Continuing Care Assistant Certificate – September 2023
Disability Support Worker – September 2023
Electrician Applied Certificate – August 2023
Health Care Cook Certificate – September 2023
Industrial Mechanics Applied Certificate – January 2024
Office Administration Certificate - August 2023
Primary Care Paramedic – August 2023
University (first year) – registered in a minimum of 3 classes (Cumberland College/Parkland College CRN's) for both Fall 2023 and Winter 2024 semester.
2. Complete the form "Win Your Tuition Application" that can be found here. Contest entries received by any other method will not be accepted. The form includes a 200-to-300-word essay on why you chose Cumberland College and what your education goals are.
Contest Eligibility:
Only open to Canadian residents who are accepted into an eligible program listed above at Cumberland College for 2023/24. All applicants must be starting the first year of their selected program. Note: As of July 1st, 2023 Cumberland College and Parkland College will be merging and a new college name will be adopted. This will have no impact on the winners of this contest.
Only one (1) entry per person is allowed. Any attempt to submit more than one (1) entry, use multiple names or identities, use multiple email addresses, use any automated, macro, script, robotic or other system(s) or program(s), or use any other means that are not in compliance with the College's interpretation of the Promotion rules, will result in disqualification from the Contest at the sole discretion of the College.
Proof of enrollment for university classes must be submitted to Cumberland College Admissions at registrar@cumberlandcollege.sk.ca before prize will be awarded.
All applications and survey forms must be received before the end of the Promotion Period being May 31, 2023, at 11:59 pm. Cumberland College accepts no responsibility and will not be liable for entries that are not received, incomplete, lost, late, or misdirected for whatever reason.
If the winner cannot be reached within five (5) days of the draw date or if the winner is unable to claim their prize, they will be deemed to have forfeited their opportunity to win, and a new winner will be chosen.
Cumberland College staff, immediate family members (ie. spouse, child, sibling, parent), and those that reside with them are not eligible to enter the contest.
Candidates whose tuition is sponsored by a third party organization are not eligible for this promotion.
Winners who withdraw from their program after receiving the tuition reimbursement are not eligible for refunds from Cumberland College.
The contest prize is not transferable. In the case that the winner cannot enrol, the prize becomes void.
Regulations:
Cumberland College shall make the final determination on the eligibility of all entries.
Cumberland College is the sole judge and decision maker regarding any dispute about the application or interpretation of the Rules or any other aspect of the Promotion and the judgment or decision of Cumberland College shall be final.
All entries become the property of Cumberland College and will not be returned.
By entering the Promotion, entrants are deemed to have read and agreed with these Rules and release Cumberland College, its employees, and their agents from all liability resulting from the Promotion and any use of the prizes.
Only the winner selected in the Promotion draw will be contacted by Cumberland College.
As a winner, you consent to the publication of your name on various communication platforms as determined reasonable by Cumberland College.
Winner Selection:
Cumberland College will make a random draw on or about August 8, 2023 from all eligible entries received for the prizes. Chances of winning are dependent on the number of eligible entries received. The winner will be notified by phone or email.