Business Students Win Big at Newsask YBEX Competition
May 12, 2023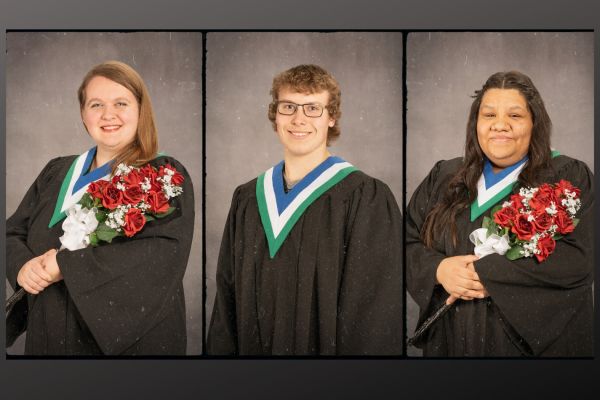 Photo above: (L to R) Karissa Collison, Brayden Hodgson, & Sky Turner
Tisdale, SK – The Cumberland College Business students have made their mark at the Newsask Youth Business Excellence Awards (YBEX) competition, winning awards in both the Business Plan and Business Venture categories.
In the Business Plan Individual Category for Out of School Youth, three Cumberland College students were awarded prizes for their written business plan submissions. Brayden Hodgson from Melfort, and Karissa Collison from Tisdale tied for first place with their business plans for Northern Sporting Goods and Lit'est Pot Shop, respectively. Sky Turner of Melfort took home the third-place prize for Best Dressed.
In the Business Venture Category, Brayden Hodgson's Northern Sporting Goods and Karissa Collison's Lit'est Pot Shop were awarded first and second place, respectively, for their impressive Zoom presentation pitches. "We are incredibly proud of our Cumberland College General Business Diploma students for their achievements at the YBEX competition," said Cumberland College's Chair of Post-Secondary Education, Jeff Fisher. "Their hard work, dedication, and innovative ideas are a testament to the quality of Business education and training that we offer at Cumberland College."
In accordance with the competition regulations, fifty percent of the YBEX winnings are awarded to the students' institution. Cumberland College reinvests the funds towards a scholarship for future Cumberland College Business Diploma students.
Brayden Hodgson was the recipient of the Cumberland College Scholarship last year, which was made possible by the previous year's class winnings. When asked about his success, Brayden said, "I am grateful for the opportunities provided by Cumberland College and Newsask Community Futures. I'm honoured to receive these awards and it feels great knowing that next year's Business students will benefit from our accomplishments!" says Hodgson.
The YBEX competition, organized by Community Futures Newsask is an entrepreneurship program that encourages participants to showcase their business ideas and to explore entrepreneurship as an option for starting their own business. The experience, knowledge and skills acquired through the YBEX competition are priceless and can be applied to any future endeavors, regardless of the direction students choose to take in their careers.
For more information about Cumberland College's General Business Diploma Program, please visit the college's website at www.cumberlandcollege.sk.ca.
For more information about the YBEX competition and Community Futures Newsask, please visit YBEX | Community Futures Saskatchewan (cfsask.ca).