Cumberland College and Parkland College Announce New Name
June 5, 2023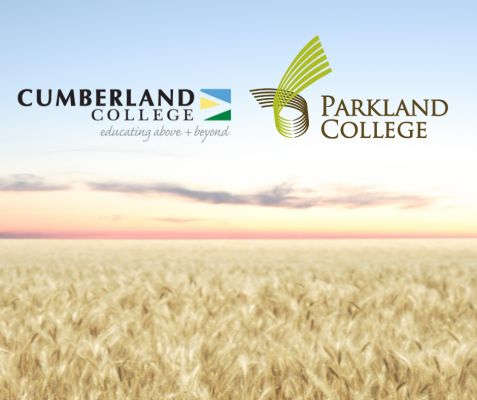 Cumberland College and Parkland College will officially merge and become Suncrest College on July 1, 2023, marking a new beginning for two respected educational institutions and expanded training opportunities for students.
"Suncrest" is the combination of two words that hold significant meaning to each college. The sun represents new growth and beginning and symbolizes the commencement of the merged college. It also represents Saskatchewan, one of the sunniest provinces in Canada. A crest signifies the top or the peak, representing the colleges' shared vision to exceed the needs of our learners, partners and communities.
Work on the new name began after the colleges received approval from the provincial government to move forward as a merged college. The colleges worked with an external firm to guide them through the naming process with the goal of engaging as many staff and students as possible. Alison Dubreuil, interim President and CEO for Cumberland College and Parkland College, shared that the inclusive process which also focused on community engagement, was to ensure that the name represented the entire expanded region.
Dubreuil also explained that excitement about the merger and the new name is complemented by the rich history and impact of Cumberland and Parkland colleges. "Holding on to the pride and emotional connection from the legacy of both Cumberland College and Parkland College is important. Our new name builds upon that pride as well as our shared values and vision for the future," said Dubreuil. "Suncrest College will unify us and ensure we are an institution that people want to learn, work and partner with."
"The Government of Saskatchewan congratulates Cumberland College and Parkland College on an exciting milestone in their collaborative relationship," Advanced Education Minister Gordon S. Wyant said. "This new name aligns with feedback from students, staff and key community stakeholders and represents unity, growth, and continued innovation. We look forward to a bright future ahead for Suncrest College."
As part of the legal requirements to finalize the merger, a new head office location for Suncrest College was designated as 273 Dracup Avenue in Yorkton or what is referred to as the Trades and Technology Centre. "The Trades and Technology Centre is owned by the College and the city of Yorkton currently has the largest number of centralized employees and students," Ray Sass, Board Co-Chair said. "The head office location will not impact or change the decentralized organizational structure or staffing complement, the programming, or service to external stakeholders across the region."
The new College will see continuity with returning Board of Governors including Corinna Stevenson (Melfort), Ray Sass (Yorkton), Lori Kidney (Tisdale), Brian Hicke, (Melville) and Wendy Becenko (Kamsack). In addition, the following new members Dr. Adeyemi Laosebikan (Melfort) and Shaun Patenaude (Yorkton) will join the Board effective July 1, 2023.
Board Co-Chair, Corinna Stevenson stated, "we are pleased with the addition of new members to our Board of Governors. We are excited for the future of Suncrest College and look forward to guidance from these new board members".
The Board of Governors also announced that Alison Dubreuil will remain as the interim President & CEO of Cumberland and Parkland College until June 30, 2023 and as of July 1, 2023 will continue as the President & CEO of Suncrest College. Stevenson noted that, "Alison has been with Parkland College for 15 years after working with SaskTel, SecurTek and the Saskatchewan Health Authority. Her past roles included Vice President of Administration at Parkland College. Her knowledge and experience of the college and college system in Saskatchewan, previous industry experience, local and community roots, and authentic leadership skills will be instrumental in the transition in the coming years".
With the official merger date of July 1 only weeks away, the colleges are focused on ensuring a smooth transition for staff, students, and stakeholders and are looking forward to the exciting milestones ahead for Suncrest College.
About Cumberland College:
Since 1975, Cumberland College has been providing high quality training and education programs for adults in northeastern Saskatchewan. Campuses are located in Nipawin, Melfort, and Tisdale.
About Parkland College:
Parkland College provides high quality, learner-centered education and training as a foundation for lifelong success. The college offers a superior learning and campus experience with locations in Yorkton, Melville, Fort Qu'Appelle, Esterhazy, Canora and Kamsack.
For more information contact:
Cumberland College & Parkland College Marketing
Phone: 306.786.2580
Email: marketing@parklandcollege.sk.ca / marketing@cumberlandcollege.sk.ca