Cumberland College Celebrates Farewell to Last Graduating Class in Momentous Ceremony
June 1, 2023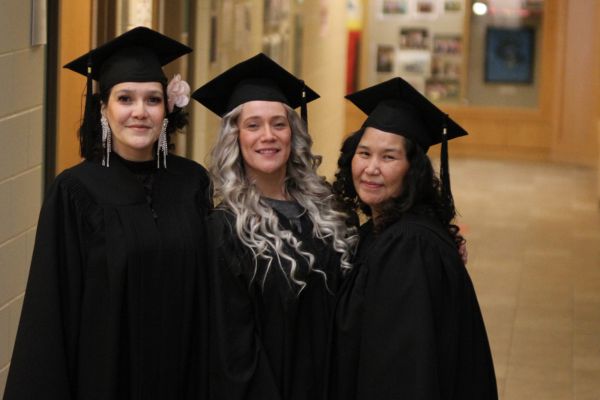 Melfort, May 31 - The Kerry Vickar Centre in Melfort was alive with nostalgia and excitement as Cumberland College bid farewell to its final graduating class in a momentous ceremony on Wednesday, May 31. This graduation marked the end of an era for Cumberland College, as it prepares to merge with Parkland College on July 1, 2023.
Proud family members, faculty, distinguished guests, and a packed audience gathered to celebrate the remarkable achievements of the graduates. The ceremony commenced with a captivating acapella rendition of "O Canada" by Kara Frey, an alumna of the Adult Education and Practical Nursing program, whose mesmerizing voice resonated through the venue.
Following the national anthem, the Digging Bear Drum Group from James Smith Cree Nation took the stage to perform the Honour Song. Their powerful tribute highlighted Cumberland College's commitment to indigenous culture and inclusivity, evoking a sense of unity and appreciation for the college's values.
Brenda Mellon, Manager of Learner Services and an employee at Cumberland College for over three decades, served as the emcee for the event. Brenda shared interesting stories and historical facts about the college as the ceremony progressed, taking the audience on a journey through time. She transported them back to Cumberland College's humble beginnings in 1975, when it operated with only four employees. Brenda also highlighted the diverse courses offered during that period, including Reupholstery, Hair Care and Styling, and Sewing with Jean Cloth, reflecting the community's wide-ranging interests.
Established in 1975, Cumberland College has been a pillar of educational excellence in northeastern Saskatchewan. It has provided a wide range of programs catering to diverse educational needs. This year's graduating class consisted of students from various programs, including Adult Basic Education, Agricultural Sciences, Carpentry, Continuing Care Assistant, Early Childhood Education, General Business, Health Care Cook, Office Administration, Practical Nursing, and a Master of Education degree.
The ceremony attracted notable dignitaries, including Cindy Sass on behalf of Randy Hoback, MP for Prince Albert Riding, and MLA Todd Goudy, representing the Melfort Constituency. Glenn George, the Mayor of Melfort, and Corinna Stevenson, Co-Chairperson of the merging colleges, also attended the occasion. These dignitaries commended the hard work and dedication exhibited by the students throughout their academic journey and emphasized the positive impact they would have on their communities.
Adding wisdom and cultural significance to the ceremony, Shirley Sanderson, an Elder from the James Smith Cree Nation, offered her blessings and words of encouragement to the graduates, inspiring them to embrace their future endeavours.
Cumberland College's commitment to innovative programming became evident in the 1980s when they introduced courses ranging from microwave cooking to horse training. In 1990, a University Program Centre was established, offering first-year courses from the University of Saskatchewan. The college's transition to a regional institution in 1988 allowed them to focus on employment-related training, meeting the local labour market's needs with programs like Truck Driver Training and Motor Vehicle Repair.
Throughout the years, Cumberland College expanded its offerings, supporting students and employers alike. The college's dedication to helping students achieve their academic goals was evident in the significant increase in scholarships awarded. In comparison to the past, when $5,000 was awarded in scholarships, this year's students were recipients of almost $114,000 in scholarships, highlighting the institution's commitment to student success.
As the last graduating class of Cumberland College, these remarkable individuals have left an indelible mark on the institution's history. Equipped with their qualifications and newfound knowledge, they are poised to contribute to their respective fields and make a meaningful difference in their communities.
"We are so proud of who we are and we are equally as proud of who we will become, and we hope this is true for yourselves as well. Today is the end of your current educational journey, but only the beginning of your next chapter as professionals or students of a higher level of education. This is also true for Cumberland College; one ending always leads to a new beginning," said Alison Dubreuil, President of Cumberland College and Parkland College.
While Cumberland College bids farewell to its beloved name, it does so with anticipation for the exciting opportunities that lie ahead. The merger with Parkland College marks a new chapter in their shared history as they unite to provide exceptional education and support to students in Saskatchewan.
The legacy of Cumberland College will forever be cherished by its alums, faculty, and the communities it has served. Although the college's name may fade into the annals of history, the memories and accomplishments of its graduates will continue to shine bright, serving as a testament to the enduring spirit of education and growth.
The merger between Cumberland College and Parkland College symbolizes a new era of educational collaboration and growth in the region. While the name of the new institution is yet to be determined, it is evident that it will build upon the legacies of both Cumberland College and Parkland College, further enhancing the educational landscape and opportunities for students in the area.
As Cumberland College bids farewell to its final graduating class, it leaves a legacy of knowledge, growth, and community engagement. The merger with Parkland College represents an exciting chapter in the evolution of these institutions, promising a brighter future for education in the region. Cumberland College's last graduating class will forever hold a special place in the hearts of the community as they pave the way for the next generation of learners.
Congratulations to the Cumberland College Class of 2023, and best wishes for all the remarkable endeavours that await you in the future!
A short video highlighting the graduation class of 2023.