Alumni Stories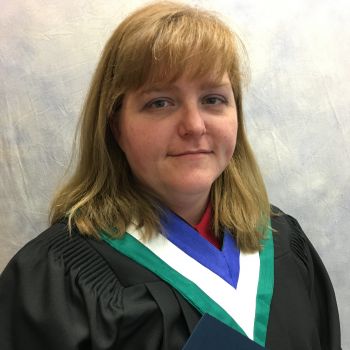 Dana Lee
Office Administration
"My time at Cumberland College has helped me become a better version of myself and has helped me to become a more confident woman. "
Dana graduated from Lamont Senior High School in June 2000. In 2017 Dana was living in Nipawin, SK, and saw that Cumberland College was offering a course in Office Administration course, which was something she always wanted to. Dana said, "I saw this as an opportunity to step out of my comfort zone and to try to enter the work world." As a mother of two young children, age 2 and 7, returning to school can be a difficult challenge but Dana knew she was ready to make a change and now is so glad she did. She said that the program allowed her to enrich her knowledge of Microsoft programs and how to use the programs to their full capacity. Dana credits much of her success to the support of her instructor who was always there to help and to her classmates who helped keep her on her toes. Dana met all her challenges head on and successfully graduated from the program in May 2018. When asked about her favorite memories of her studies at Cumberland College, Dana said she thoroughly enjoyed every minute. "Making new friends and learning computer programs, that I hadn't used in the past was a fun and exciting."
Dana's future plans are to secure a steady job in Office Administration. She isn't closing the door to the possibility of further education and looks forward to continuing to challenge herself. Dana's advice to future students is, "Don't be afraid to do something that scares you. Step out of your comfort zone and you just might surprise yourself with who you can become. Congratulations on your achievements Dana and we wish you well in your new profession.
Dana took
Certificate/Diploma
classes while attending Cumberland College.