Alumni Stories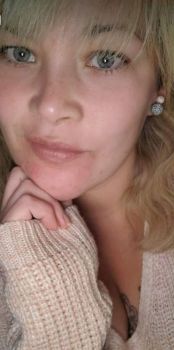 Alison Elsner
Adult Basic Education
"Cumberland College started my journey into learning "
Alison is a first generation high school graduate and university degree holder. She is a twin and oldest of four siblings raised in the small town of Star City Saskatchewan where she had no exposure to Indigneous culture or language. Alison was born to a teen mom who struggled with addictions. Her mom left when she was 3 years old and her father, who could not grow up, fell into alcoholism, Alison and her siblings were raised by her non-aboriginal grandparents.
Throughout high school Alison remembers spending most of her time drinking. When she graduated in 2007 her grades reflected the years of neglecting her studies. She was devastated when the First Nations University rejected her application due to low grades so she vowed to change. She enrolled in Adult Basic Education at Cumberland College as a full-time Grade 12 student. Alison said the welcoming atmosphere and the support of staff and fellow students made a huge difference in her journey. While in ABE, Alison was chosen to attend the Saskatchewan Adult Basic Education Association student conference. She also received the Student Achievement Award recognizing her leadership and her commitment to life-long learning. Alison graduated in 2009 with excellent marks and an acceptance to FNU in the Bachelor of Indian Social Work program.
Alison said her time at the College was the beginning of her journey of life-long learning. At the First Nations University she was introduced to her culture as a Plains Cree from Ahtahkakoop First Nations and was provided the skills and tools to become a successful Social Worker. In 2013 Alison's grandparents proudly looked on as both Alison and her twin sister received a Bachelor of Indian Social Work. After completing her degree, Alison worked as an Outreach Worker with the North East School Division and as a Support Worker with the Marguerite Riel Centre. While at the Marguerite Riel Centre, Alison participated in the Canadian Root Exchange bringing Indigenous and non-Indigenous Youth together in Traditional Territories across Canada to learn about the strengths and struggles of Indigenous communities.
The experience was truly life changing. The program taught Alison about Cree culture and gave her an additional boost of confidence and strength. Following, Alison moved to Prince Albert to work as a Clinical Caseworker with Eagles Nest Youth Ranch. After six months she moved to North Battleford where she accepted a permanent position with the Prairie North Health Region; in the Health Region, Alison has worked as a Forensic Social Worker and as a Social Worker for the rehab units at the Saskatchewan Hospital assessing patient's readiness for discharge and preparing them for the world outside the hospital. Alison has also been employed with KANAWEYIMIK CHILD & FAMILY SERVICES, INC. as a Mental Health Counsellor, providing holistic, therapeutic treatment services to individuals and families who have experienced violence and abuse. Recently Alison has joined the Regina Correctional Centre while continuing to be involved in her community. Her community involvement includes Indigenous Women in Leadership and First Responders Crisis Teams, as well as advocating for self care, mental health, and fitness. Sher herself runs marathons and participates in crossfit training. In 2020, Alison's achievements were recognized as she was nominated for Saskatchewan's "Future 40" which recognizes the new generation of leaders, builders, and change-makers under the age of 40.
Alison continues to be a true example of a life-long learner as she works towards a Master of Social Work Indigneous Focus of Study. Her personal mission is to continue to grow within her Cree culture, learning the language and expressing herself through traditional crafts such as beadwork and cultural clothing. Congratulations Alision on your many achievements. We are proud to include your story on our Alumi page.
Alison took
University,
Adult Basic Education
classes while attending Cumberland College.