Alumni Stories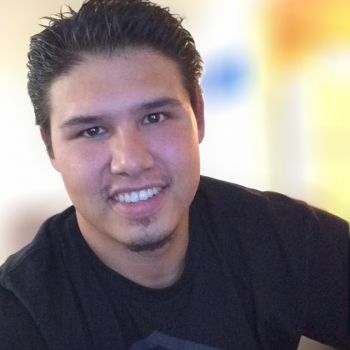 Matthew Schnieder
Adult Basic Education
"I chose Cumberland because I heard great things about the program "
Matthew attended Cumberland College Adult Basic Education program in 2005-06. Originally from Kinistin Saulteaux Nation, Matthew now lives in Saskatoon with his young son and is attending the University of Saskatchewan in the Indian Teacher Education Program. He is going into his second year and has the honor of serving as President of the ITEP Student Executive Council.
Matthew said he chose Cumberland College because heard great things about the program from his older sister who had also taken ABE in Tisdale. Matt says, "The College had a great working relationship with his community Kinistin Saulteaux Nation and the school was easily accessible. Cumberland College allowed me to progress through classes at a pace where I felt comfortable." His favorite memory at Cumberland was when he was asked to paint a mural onto the main office windows." I enjoyed that the staff of the college appreciated my artwork, and was ecstatic to do it."
Matt attributes part of his success at the college to his teachers and to his student advisor Corinne Lam Ma. "The instructors were enlightening in their teaching, and knowledgeable in their respective subjects. Mrs. Lam Ma was always around and always willing to speak with students about home life, school life, and anything in general to help students feel at home." Like many of the adult students, Matt recollects barriers such as transportation, finances, and lack of confidence. "Without a reliable ride into town, I was usually late or absent and my finances were at the worst they'd ever been so I found it difficult to budget throughout an entire month." The greatest barrier Matt overcame was finding confidence in himself as a student. "I never believed I could possess the ability to be a great student, but learning through Cumberland College really helped me to gain that confidence." Matt's advice to other students is to never stop. Don't make the mistake of assuming you will never make. "Keep going, I am proof that commitment pays off. Learning is a process that works on an individual basis. don't be discouraged if you're not getting something or cannot understand something, and don't ever be afraid to ask. Questions always bring new understandings." Matthew is a shining example of determination leading to success. He will be a definite asset to our school system.
Matthew took
Adult Basic Education
classes while attending Cumberland College.