Alumni Stories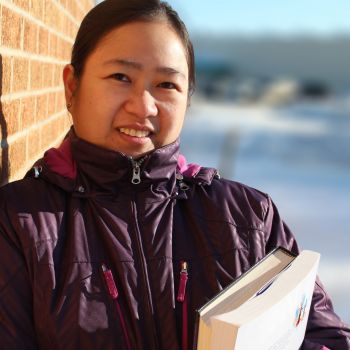 Jennifer Carlos Dela Pena
Office Administration
"In my first day of school, I felt awkward because I was the only student that came from foreign country. This did not last long because of the friendly environment. "
In my first day of school, I felt awkward because I was the only student that came from foreign country. This did not last long because of the friendly environment."
Jennifer came to Canada with her family in March 2012 from her home country of the Philippines. Her story is one of many changes and challenges and the importance of seeking every opportunity to learn.
Jennifer remembers, "When I was young, my parents would always tell us to study hard so that we can finish college and find a good job. They said that education is the only wealth they can give us that nobody can ever take away. I studied hard, obtained my degree in accounting, and became a certified public accountant (CPA) in my country. Indeed, my parents were right. I found a good job and became a manager in the company. This was not an easy task. I started as a casual employee and through hard work and patience I got promoted to managerial position and was later offered a much higher position for me not to resign and immigrate to Canada. After working for almost 13 years, I came to Canada and all of a sudden my very busy schedule was gone. I stayed at home taking care of my children, which I was not used to since we had a nanny to care of them when we lived in the Philippines. Staying at home gave me time to read and gather information on how to live in Canada. I went back to studying when I enrolled in English as a Second Language Program at Cumberland College. This is where I got help on how to register for the Office Administration program at the College. I am so thankful to my ESL instructor, Lynda McPhee, who directed me to the proper contact person in the college. She also assisted me on how gather the proof of English proficiency which is a vital requirement in registering in any post-secondary programs."
I chose to take Office Administration at Cumberland College because I prefer to study in-class. The instructors at Cumberland College are very competent and skilled in teaching so I spent less time studying at home and much more time with my family. They are also very accommodating, helpful, and considerate. The college is very supportive of their students and always ready to give assistance to those in need. Receiving a scholarship from the college was very memorable because it helped pay my tuition and in the country where I came from, I never received any scholarship for school. The scholarship made me feel very appreciated and that my hard work was recognized.
Jennifer's advice to fellow students is stay focus on your studies. Time management is so important so you can divide time between school, work, and my family. "Spare this period of your life to exchange for a better a future. Education is something that is with you anywhere you go and that no one can take away. It is something that you can share. It is sometimes difficult to accept a sudden change in your life but accept changes because we need change in order to be what we are today."
Jennifer is currently working at Janke Jellicoe Chartered Accountants LLP while continuing to take Office Administration classes part-time. She is also registered in the Chartered Professional Accountants Preparatory Program through Western School of Business. Her goal is to obtain her professional designation in accounting and to continue to work in the field she loves. Jennifer said, "I never dreamt of working and living in a different country with my family but here I am now a Canadian citizen!"
Congratulations Jennifer on your many successes and for choosing to live and go to school in Northeastern Saskatchewan.
Jennifer took
Certificate/Diploma,
English Second Language
classes while attending Cumberland College.