Alumni Stories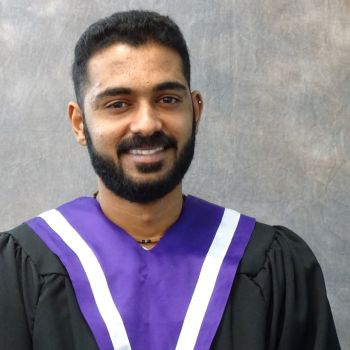 Joji Sam Philip
Continuing Care Assistant
"I am really glad to say that I was able to be part of Cumberland College and their education system! "
Originally from Kayamkulam, India, Joji travelled many miles to study in Canada and to take his training at Cumberland College in Melfort. He came to Cumberland quite by accident but it is one that Joji says turned out to be a great experience. Kayamkulam is a town on the Arabian Sea located on the western coast of India. The country, the culture and so many other factors are far removed from a small prairie city in Saskatchewan. Joji recalls his first few days at Cumberland as challenging, "From day one, it was very different because I moved from my home town directly to Melfort and to Cumberland College. It was hard for a couple of days but the college staff and my teachers were really helpful and supported me in every situation."
Joji said that Cumberland College's Registrar, Rebecca Cross was instrumental in supporting his application process and ensuring his international documents were in order to study in Canada. His teacher was also significant help.
One of the greatest barriers Joji experienced was the financial stress of studying abroad. "Studying in a foreign country is very expensive but the rewards make it worthwhile." Joji received the Charlie's Charters and Golden Grain Bakery scholarship while studying at the College so the scholarship helped toward some of the expenses. Joji is now employed with Plus Industries in Melfort. Joji is a Registered Nurse in his home country; his goal is to write the exams to work as a Registered Nurse in Canada.
His advice to future students of Cumberland College is, "take your training here. It is a good school and one that will help you enhance your career and build a good future."
Congratulations Joji on your many accomplishments this year and thank-you for choosing to take your training in Canada at Cumberland College.
Joji Sam took
Certificate/Diploma
classes while attending Cumberland College.