Alumni Stories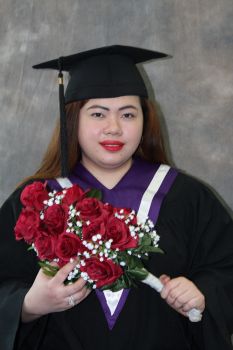 Armie Hara
Continuing Care Assistant
"Cumberland College helped to boost my self-confidence and learn to accept changes in my life. "
Armie is originally from the Philippines graduating from high school in 2006. Armie has always been interested in helping others so decided to enroll in the Continuing Care Assistant program in 2017. She said her choice to attend Cumberland was easy because it was in her new home community and she had heard many positive things about the College from family and friends. When asked for her favorite memory as a student at the College, Armie said, "It was such great fun and I have many good memories I will cherish. My favorite memory was meeting new friends and learning with them." Coming from another country can be difficult especially when trying to navigate the application and registration processes for further training. Armie said that the frontline staff and her advisor, Miss Brandy, were very helpful in helping her with the paperwork and with understanding the process to meet the requirements of acceptance. Armie also said that she gained confidence in herself and learned how to accept changes in life by socializing with her classmates and instructor. As many of our adult learners do, Armie continued to work part-time while taking her training. This was another advantage of taking training within your home community. Armie's future plans is to become a successful business person. With your commitment to learning, your dedication to your career, we know you will achieve that goal. Congratulations Armie, we wish you all the best.
Learn more about Cumberland College's Continuing Care Assistant Program
Armie took
Certificate/Diploma
classes while attending Cumberland College.