Alumni Stories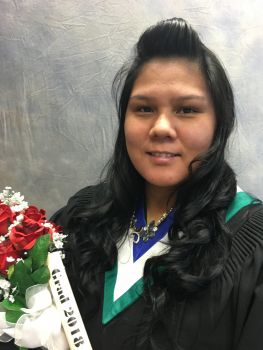 Charity Whitehead
Office Administration
"Commitment is the best quality to build a foundation for success "
Charity is originally from Shoal Lake Cree Nation. She credits Cumberland College for helping launch her future. "I chose Cumberland College because it was the first place I achieved my educational goal to get my Grade 12 Diploma so I could begin my future." Charity graduated from Adult Basic Education on the Nipawin campus in 2005 and from then on has continued her journey of life-long learning. She completed her Bachelor of Indigenous Education Degree but knew she wanted to enhance her computer skills before entering the classroom. In 2017, Charity applied to take the Office Administration program in Tisdale. She said that the program, "helped me be better organized, more knowledgeable, and more experienced in daily tasks/goals. Most importantly, it helped me learn how to be part of a team." This teamwork helped build community in and outside the classroom. Charity said, "Commitment played a major role in our lives as a class. We were committed to attend class, to supporting each other to succeed. Many of us woke up early each morning, drove here, participated in class and went back home just to do it again the next morning. I saw this commitment and determination as what we held onto as a group striving for success. We all helped each other, kept each other informed and built a small class unit of one."
In addition to the support of her classmates, Charity credits her success to the staff at Cumberland. "The Receptionist did an amazing job. She was helpful, kind and knowledgeable. Our advisor Sherilyn is the best. Without her help, I would have struggled with so much. The instructor become my role model and someday I wish to be like her." Charity's future plan is to become an Adult Basic Education instructor and eventually take a Master's degree in Education. We wish you every success Charity and know that you will make a significant impact on the lives of the students in your classroom and that you will continue to model what it truly means to be a life-long learner.
Charity took
Certificate/Diploma
classes while attending Cumberland College.