College History
Content:
Development of Community Colleges
On July 1, 1972, the Department of Continuing Education was established as a need was seen to bring about a rational and coherent system of post-school learning in Saskatchewan. In August of the same year, an Advisory Committee submitted a report on Community Colleges (The Faris Report). Acting on recommendations of that Report, Gordon MacMurchy, Minister of Education, announced on September 22, 1972, that the first community college pilot projects would go into operation that fall.
The philosophy of community colleges was centered on the word "community". The focus was to serve not just individuals, but communities as a whole. MacMurchy in a press release addressed three main concepts. Community Colleges would:
use existing facilities such as schools, community halls, church basements, and store fronts to utilize a surplus of space in the communities;

avoid hiring permanent staff as much as possible. Community Colleges would hire local people who have appropriate knowledge and skills; and

steer away from permanent courses and programs and stress the community college's ability to respond to needs and to be flexible.
In December, 1972, four community college developers were appointed to assist in the establishment of four project college development areas: Swift Current region, Humboldt region, Melville-Yorkton region and La Ronge region. The developer's role was to analyze the district, assist communities to determine their adult educational needs, recommend citizens for community college boards, and assist the board in launching the community college. The developers used seven principles taken from the Faris Report to guide their work:
A community college's major responsibility is to promote formal and informal adult learning in its regional community.

Programs are to be developed in response to the expressed concerns of a community which has identified and assessed its needs.

A community college shall provide individual and group counselling in the establishment and achievement of educational goals.

A community college shall assist in community development by offering programs of community education and service. In rural areas it will serve as a mechanism for the maintenance and development of a viable way of life.

A community college shall not duplicate existing educational facilities or services for adults; rather, it shall co-ordinate the delivery of all adult educational services to the community.

A community college shall be governed by a council representative of the region.

The operation of community colleges shall be under the purview of the Minister of Continuing Education.
In May, 1973, the provincial cabinet appointed community college boards in each of the above regions. Following their incorporation, their immediate responsibilities were to hire a principal for the college and whatever administrative and clerical staff considered necessary. Community Colleges, Saskatchewan style, were born.
Development of Cumberland Community College
The Early Years: 1975-1980
The success of the pilot community college projects encouraged the Department of Continuing Education to expand the project, with the result that the whole province embraced the college system. Formation of this community college began in the summer of 1974. Mrs. Mickey MacLennan was hired to develop a northeast Saskatchewan community college. Shortly after, Vern Bachiu was hired as an assistant to Mrs. MacLennan. They began by organizing an advisory committee of Northeast residents. From this Advisory Committee and other community contacts, a Board of Directors was selected. The first Board of Directors of Cumberland (then known as Northeast) Community College was approved by Order in Council #34/75 on January 14, 1975. The Board of Directors held their first meeting the very next evening, January 15, 1975.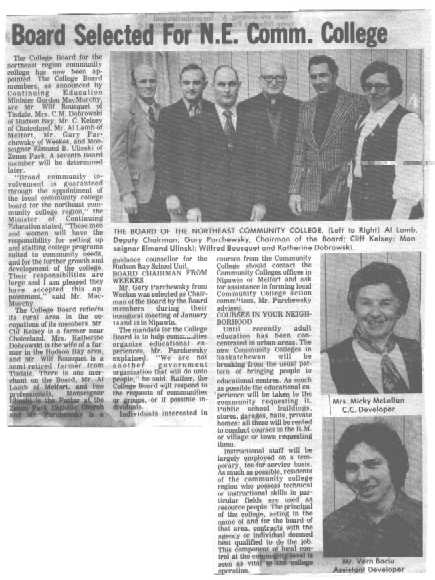 In April, 1975, Mr. Elias Nesdoly was appointed principal. Mr. Art Karras was appointed Secretary-Treasurer of the community college the following month. By June of 1975 , there were 2 other staff members working out of the Nipawin office, a Program Coordinator, Susan Weber, and a Clerk-Stenographer, Colleen Meyer. A second Program Coordinator, Rilla Edwards was working out of the Melfort office. During the spring of 1975, the college held a public contest ("Here's Your Chance to WIN $25.00!) to determine a Cumberland Community College logo. The awards for the prize-winning entries in the contest went to James Weseen of Star City and Bruce Dawson of Nipawin. James Weseen presented the idea of using the three C's and Bruce Dawson's sketch showed a person paddling a canoe. Mrs. Kay Dobrowski, a member of the College Board, recommended to the Board that these two ideas be incorporated into one logo. The College Board accepted this recommendation and the final result is shown on the cover of this booklet. Bruce Dawson, in submitting his entry of the canoeist stated, "The waterways and woodlands are part of our heritage. In this region, Indians and European trappers and traders used canoes for travel for centuries. The canoe represents the College itself, providing opportunities in the rivers, the currents of life." Adult learning requests and community participation expanded throughout 1975 as did the volume of courses provided throughout the region. The first courses to be held in the region were between February and June, 1975. One hundred eighty-three adult learners took part in 11 courses during these first 5 months of programming. The first shared, cost program sponsored by Canada Manpower was held in Melfort for "Visiting Homemakers" with 8 participants.
The first full slate of courses was offered in the fall of 1975. There were 3 main types of courses:
Social Demand Courses. These were meant to improve skills in hobby or special interest areas.

Occupational Improvement Courses. The purpose was to improve a person's work skills so they may advance or find new employment.

Upgrading Courses. The scope of courses offered ranged from grade 1 to University credits.
The social demand courses ranged from beadwork and bookkeeping to barbershop singing. The most popular course of 1975-76 was "Re-upholstery" with a total of 338 participants throughout the region signing up!! Other popular courses throughout the '70's included "Hair Care and Styling", "Sewing with Jean Cloth", "Chinese Cooking", "Macrame", "Metrics", and "Old Time Dancing". Of course in the spirit of the '70's, the price was right with the going rate being 50 cents per hour for tuition! Senior citizens could attend for free. Participation rates at this time reached 6,032 adults enrolled in 443 courses. Staff grew as the number of courses grew and by September of 1978 there were 14 full and part-time staff members. Because of the decentralized model of education that was followed, the coordination of courses in the early years was done with the help of local contact committees. By 1978, there were 51 Local Contact Committees (made up of 203 volunteers) throughout the Region with courses being held in 52 communities. Volunteerism was alive and well in Saskatchewan! The College had its official opening of its main office in Nipawin in June of 1976. A branch of the College was located in Melfort. These offices were full-time year round operations. Two additional branch offices were located in Hudson Bay (September, 1976) and Tisdale (January, 1977) on a part-time basis.
Memories of facilities during the early years include:
the very first administrative office in Nipawin being in the Nipawin Journal building, where the office consisted of a table-sized room.

Beth Goertzen teaching upgrading on Main Street, Carrot River in a store-front location, where the mid-morning entertainment on the street by passerbys was lining up to watch the action inside. Later, Beth taught in a house where the classrooms consisted of a living room and 2 bedrooms and resources were kept on mason jar storage cupboards.

Hudson Bay office was located in the front of an old meat locker plant on Main Street.

Tisdale's office was in the little building beside the Falkon Theatre.

Administrative offices with no classrooms; classrooms were in church basements, schools, peoples' houses.

Melfort's administrative office was first located at 101 Burrows Avenue
Cumberland Community College: 1980-1987
The College continued to operate during the years 1980-87 with the help of hundreds of volunteers. The roots of the College were firmly based within the community and courses were developed in response to their needs. Some of the popular courses during this time included microwave cooking, aerobics, computer literacy, horse training, First Aid, and dough art. Many technical courses ran for farmers including welding, farm greenhouse operation, carpentry and farm wiring.
Other programs of interest included a week-long fur trapping course, Steam Engineering programs and secretarial studies offered via the competency–based model through Wascana Institute. Career Counselling was expanded to a full-time counsellor for a period of nine months in 1985-86. During April and May, 1986, the College hired an Art Instructor in Residence for 8 weeks which ran in the form of workshops, evening courses and guest lectures with an enrollment of 223 individuals.
During these years, facilities continued to grow and expand with increasing staff requirements. In Nipawin, 210 Centre Street housed the College during the '80's. Melfort's facility moved from Burrows Ave to the Melfort Mall and then moved again to 706 Main Street. Beth Goertzen's adult basic education classrooms in Carrot River moved from a house to the old hospital. The College administration office in Hudson Bay closed in April, 1985, although Adult Basic Education courses continued to operate.
Cumberland Regional College: 1988 - 2000
A New Name, A New Direction
The year 1988 brought with it major changes within the provincial College system. The change from the "Community" College to the "Regional" College not only resulted in a name change but a mandate change. The new Regional Colleges Act was passed as well as the Saskatchewan Institute of Applied Sciences and Technology (Sask Polytech) Act. This resulted in a larger geographical boundary with an increase in population as the Colleges picked up the areas around the cities that formerly had been served by city community colleges. There was a clear mandate to increase the number of University and Sask Polytech credit courses and to focus on employment related training. Hobby and leisure courses were no longer within the mandate of the College system. The change had clear impacts on programming; during the first year as a Regional College, there were fewer courses and fewer students, but there were proportionately more student hours. The number of communities in which learning activities were offered decreased and with this, the role of the contact committee system was reduced and would eventually cease to exist by the early 1990s. The College work force also required modifications. While the community college operated largely on a part-time human resource base, this pattern began to be modified to a full time year-round pattern. The staff needed to have competencies in not only administrative and organizational skills but also in education and training.
The very positive steps that were taken because of the change in mandate has resulted in:
strengthened Basic Education services;

strengthened University programming; and

training programs which more closely reflected the labour market needs of the region.
Cumberland Regional College: Highlights of the 1990's
1989-90 was a year of expansion within Cumberland Regional College. An operating agreement with Saskatchewan Communications Network was signed to manage four receiving sites in the region. In response to an increase in the number of adults seeking career-related changes, the College increased resources allocated to career services. Staff was added in Hudson Bay and Paddockwood to provide a more consistent service to the communities less easily served by the existing offices and staff. Staff increased from 23 in 1988-89 to 38 in 1989-90. New office and training facilities were leased which were developed and equipped to a higher standard than ever before.

In Melfort, the College moved into Northland Plaza on Saskatchewan Avenue where Sears presently occupies space. There was office space plus 3 classrooms. Staff fondly remember the white caps that graced the hallways as spring floods overcame the facility. In Nipawin, the staff moved from Centre Street to 201 1st Ave. W. where the Rural Service Centre is now located. There were 2 classrooms in this facility as well as the administrative offices. In Tisdale, the space in the Robinson Store Building (now Tisdale Recorder) was upgraded. In November, 1989 the administrative office in Hudson Bay opened up again after being closed since 1985, this time in the old Spruce Haven school that had moved to Heritage Park. Soon after, in January of 1990, the College moved back to Main Street to a vacant dry goods store.

A University Program Centre in Melfort was established in 1990-91 in which a full first-year of Arts and Science program was offered. A mobile fleet of 12 computers was purchased to allow computer training to be extended into smaller communities.

In 1991-92, the Melfort Program Centre was officially designated as a U of S Off-Campus Delivery Site. Technical programs included Truck Driver Training, Motor Vehicle Mechanical Repair, Home Care/Special Care Aide, Early Childhood Development/Rehabilitation Worker and Business Certificate I. Literacy/E.S.L. Programs participation rates increased by 54%.

There was 100% increase in University registrations in 1992-93. In cooperation with the Eastern Swampy Cree Nations, a group of four reserves northeast of Nipawin took a Home Care/Special Care Aide program. Seven full-time Basic Education programs were delivered in the Region, including one at James Smith Cree Nation. The PALS (Principle of the Alphabet Literacy System) program was placed at Kinistin First Nation in conjunction with the Kinistin Adult Literacy Project. Computer training for the business sector became an important part of the Community Education program area.

Major renovations were completed at the Melfort Unit Comprehensive Collegiate to accommodate Adult Education and Community Education programs during 1993-94. Agricultural Programs such as Rural Welding, Pesticide Applicator and Pesticide Dispenser courses experienced a good year as programs planned in conjunction with Saskatchewan Agriculture and Food, Agriculture Institute of Management in Saskatchewan (AIMS) and other partners were well attended. Career and Student Services was provided by 5 part-time counsellors serving all the program centres in the College Region. Clients were helped with self-assessment, goal setting, exploration and career planning.

The College successfully delivered eleven full-time certificate programs with the help of Future Skills, Saskatchewan Skills Extension Program (S.S.E.P.), HRDC and Sask Polytech during the 1994-95 program year. Three Career Explorations programs were held as well as 16 weeks of Life Skills for Adult Basic Education Programs. During June of 1995, Hudson Bay College operations were moved to the bottom floor of the Blake Beattie School.

The 1995-96 program year saw 131 volunteer tutors working in the Literacy area. Highlights for the year in Community Education were three two-day Cultural Awareness Workshops and a two-day Women's Conference held in the region. Participants from across the province attended these workshops. The construction of administration space and the renovation of additional classrooms made it possible for the College in Melfort to move all of its operations to the Melfort and Unit Comprehensive Collegiate. This move took place in October of 1995.

During 1996-97, the Future Skills work-based training projects provided Cumberland Regional College with an excellent opportunity to work closer with businesses in our region. Seventy trainees spent a total of 43,120 participant hours in work-based training projects. In Nipawin, College programs, administration and the Human Resource Centre moved into a newly renovated joint-use facility in March, 1997.

1997-98 was a year highlighted by the development of numerous partnerships. In cooperation with these partners, the College effectively developed a Regional Needs Assessment, established multimedia career services, entered into a Memorandum of Understanding with Eastern Region II Metis Association, accredited Eastern Region II's Basic Education Programs, and provided workplace literacy. In August of 1997, the Tisdale office and program areas moved into the RECplex Joint-Use Facility.

During 1998-99, the College provided 383 courses for 7,335 individuals, for a total of 312,298 participant hours of learning.

As of the end of 1998-99, Cumberland Regional College had provided learning to 105,902 individuals in the Northeast since 1975.

In the year 2000, Cumberland Regional College celebrates 25 years of providing adult education to the people of Northeast Saskatchewan. Our activities over the years have reflected our mission statement (1998): "to provide quality lifelong learning opportunities today that prepare individuals and communities for tomorrow. Our supportive staff continue to build a reputation for providing a variety of services that create flexible, affordable and accessible programs."
Cumberland Regional College: Highlights from 2000 - 2010
To help deliver on a key initiative established in 2000-01, partnerships were developed with First Nations and Metis agencies to explore co-delivery initiatives. The vision over the next 10 years was to partner with many First Nation communities including Red Earth, James Smith, Kinistin, Shoal Lake, Muskoday and Little Red to deliver a variety a Basic Education, Industry Training, and Technical programs in their communities. 2001 was the first offering of Practical Nursing in partnership with the health region.

After a successful pilot project in Tisdale, Learning Centers were established at all four campuses in 2001-02. Learning Centers are a merger of Community Education and Learner Services departments and provide counselors and Learning Center coordinators to our students and potential students at all locations. The College partnered with the Prince Albert Grand Council and Saskatchewan Environment to deliver Fire Fighting Certification to First Nations.

In 2002-03 an Older Workers in Agriculture pilot project was launched. Participants completed career plans and undertook a variety of training initiatives. This pilot was the fore runner to the Older Workers Program delivered throughout Saskatchewan. A Basic Education program was offered in Red Earth, seeing one of the highest enrollment rates for Adult Basic Education regional system wide, thus far.

In 2003-04, after a plan originating in 2000, the College saw implementation of Technology Enhanced Learning (TEL). With a fundamental shift to technology, an Educational Technology Consultant was hired to assist and educate students and staff with the ever changing technology.

2004-05 introduced an Eco Tourism program at Shoal Lake Cree Nation and a Teacher's Assistant program at Red Earth Cree Nation. University of Saskatchewan and University of Regina continue to increase the number of web-based course offerings. Other modes of delivery for University courses include face-to-face, audio conferencing, tutor enhanced, and televised via the Saskatchewan Communications Network (SCN).

2005-06 A labour and training needs assessment put focus on training needs for small businesses in the College region. This resulted in the creation of the Business & Industry department. The mandate for this department is to respond to the needs of the business and industry sectors in the region by developing programming to meet their needs. A Federally funded project called CASS (Canadian Agriculture Skills Services) had College Counsellors helping farmers with career services and learning plans. Cumberland College was instrumental in the development of this project with Saskatchewan Agriculture for implementation at all the Regional Colleges. This increased Learner Services contacts by 20% and continued through to 2007. The College increased the number of and variety of trade related training in the region. New programs offered were Carpentry, Industrial Mechanics, and Institutional Cooking.

A focus was placed on Marketing in 2006-07 resulting in a new College logo. The color combinations found in the horizontal triangles are representative of the region with blue for the expansive prairie sky which signifies endless learning opportunities, the gold for the prairies represents the rich opportunity of education and green is for growth and learning.

In response to the needs of the region in 2007-08 the Applied Certificate in Welding program, in partnership with SIIT and First Nations groups, was delivered using a mobile welding lab. Three Heavy Equipment Operator certificate courses were offered in partnership with the RM of Tisdale, area farmers and the Town of Tisdale. The College purchased an additional building in Tisdale and dedicated it to Julien LeStrat. Julien was a board member from 2001-2007 who had dedicated his life to education.

2008-09 saw the first on-reserve ABE grade 12 graduation in the province. This program was located at Red Earth. Including the students from Red Earth the College graduated 59 students from the Adult Grade 12 programs in the region, an increase of 49% from the previous year and a great accomplishment. Cumberland College was the first to offer the Sask Polytech Aboriginal Police Prep program off campus. Yet another first for the College was the partnership with the University of Saskatchewan to deliver the Masters in Educational Administration program.

2009-10 Cumberland College entered into a two year agreement with the HRSDC as a partner in the Forte a la Corne Employment Development (FCED) project. The purpose of this project was to train 500 First Nations and Metis people for employment in order to meet the needs of a growing Saskatchewan economy. This agreement significantly increased the number of programs offered in 2010-2012, requiring the College to establish a second campus in Melfort. In May 2010 construction began on the new campus in Nipawin. This facility boasts 10 classrooms, including a computer lab and a shop area, and student lounge as well as offices for Administration and support staff.

2010 and 35 years of Service! The College has experienced great growth over the past 10 years. In 2000 our staff numbers were 53 and in 2010 they were 94. Scholarships for College students have grown from $12, 850 in 2000 to $62,000 in 2010. Computers available to students, staff and public were 134 in 2002 and 271 in 2010.

To express the importance of partners to the success as a College, the Mission Statement was updated: Cumberland College, in collaboration with partners, is committed to providing lifelong learning opportunities today that prepare individuals and communities for tomorrow.
Cumberland Regional College: Highlights from 2010 - present
2010-2011 Nipawin staff moved from their location at LP Miller High School to the new facility in the Central Park Learning Center on July 19, 2011. An official Grand Re-Opening was held on December 9, 2011 with representatives from government and community in attendance. The new campus has incorporated new technology for our Instructors and students such as Smart Boards, projectors, laptop carts and wireless internet. The College offered programming in our core locations Nipawin, Melfort, Tisdale and Hudson Bay as well as on Reserve in Red Earth, Shoal Lake, Muskoday, James Smith and Little Red. Retention rate for University programming was 98%.

2011-2012 The College held its official opening of the new Nipawin Campus in December 2011 as well as successfully hosted the last provincial Regional Colleges Conference in May 2012.

The Fort a la Corne Employment Development Program came to an end in 2012. The program was deemed very successful. The project programs received hundreds of applications, increased the overall awareness of the College, had high student success rates, transformed partnerships with large businesses, and increased the College's partnerships with First Nations. The knowledge and learning experience from this project was abundant.

The College signed a memorandum of understanding with the University of Regina to offer the Bachelor of Education program at the Nipawin campus in the fall of 2013.

The College enhanced its quality assurance processes by incorporating a balanced scorecard framework.

The Board began deliberation of the need for affordable student housing for College students. The Board engaged in an external review of its governance practise.
Board Member Listing
1975-76
Gary Parchewsky (Chair)
Al Lamb
Cliff Kelsey
Msgr. Ulinski
Kay Dobrowski
Wilf Bousquet
Gwen Hornseth

1975-76; 1976-77
Al Lamb (Chair)
Cliff Kelsey
Msgr. Ulinski
Kay Dobrowski
Wilf Bousquet
Gwen Hornseth
Shirley Bender

1977-78
Cliff Kelsey (Chair)
Catherine Dobrowski
Wilf Bousquet
Gwen Hornseth
Shirley Bender
Sylvia Ross
Harold Schultz

1978-79
Wilf Bousquet (Chair)
Gwen Hornseth
Shirley Bender
Harvey Heavin
F.G. Lidster
Sylvia Ross
Ronald Smith

1979-80
Francis Lidster (Chair)
Harvey Heavin
Jean Griffin
Shirley Bender
Bob Donnan
Sylvia Ross
Ron Smith

1980-81

1981-82
Bob Donnan (Chair)
Harvey Heavin
Ronald Smith
Jean Griffin
June Hayes
Rose Campeau
F.G. Lidster

1982-83
Bob Donnan (Chair?)
Harvey Heavin
Ron Smith
Jean Griffin
June Hayes
Rose Campeau
F.G. Lidster

1983-84
June Hayes (Chair?)
Margaret Anderson
Eunice Taylor
F.G. Lidster
Bob Donnan
Ron Smith
Ferne Warner

1984-85
June Hayes (Chair)
Margaret Anderson
Irene Brehmer
Bob Donnan
Eunice Taylor
Tom Taylor
Ferne Warner
F. G. Lidster
Ron Smith

1985-86
Margaret Anderson (Chair)
Ferne Warner
Gordon Cresswell
Irene Brehmer
Bob Donnan
June Hayes
Eunice Taylor
Tom Taylor

1986-87
Margaret Anderson (Chair)
Ferne Warner
Gordon Cresswell
Irene Brehmer
June Hayes
Eunice Taylor
Tom Taylor

1987-88
Ferne Warner (Chair)
Margaret Anderson
Gordon Cresswell
Irene Brehmer
June Hayes
Eunice Taylor
Tom Taylor

1988-89
Ferne Warner (Chair)
Margaret Anderson
Gordon Cresswell
Irene Brehmer
June Hayes
Eunice Taylor
Tom Taylor
Don Campbell

1989-90
Gordon Cresswell (Chair)
Ferne Warner
Margaret Anderson
Irene Brehmer
Eunice Taylor
Tom Taylor
Don Campbell

1990-91
Gordon Cresswell (Chair)
Ferne Warner
Margaret Anderson
Irene Brehmer
Eunice Taylor
Tom Taylor
Don Campbell

1991-92
Tom Taylor (Chair)
Gordon Cresswell
Ferne Warner
Margaret Anderson
Irene Brehmer
Eunice Taylor

1992-93
Ken Magnus (Chair to May 4, 1993)
Maurice Taylor (Chair Beginning May 25, 1993)

1993-94 to 1997-98
Maurice Taylor (Chair beginning May 25, 1993)
Dorothy Schulte
Margaret Fast
Terry Knutson
Emily Lundeen
Larry Lysitza
Cathy Wojciechowski

1998-99
Maurice Taylor (Chair)
Dorothy Schulte*
Margaret Fast*
Terry Knutson*
Emily Lundeen
Cathy Wojciechowski*
*Outgoing as of June 8, 1999

1999-2000
Maurice Taylor (Chair)
Don Scott
Emily Lundeen
Helene Johnson
Tim Verklan
Ralph Wegman

2000-2001
Maurice Taylor (Chair to January 2001)
Don Scott (Chair from January to May 2001)
Tim Verklan (Chair from May to June 2001)
Helene Johnson
Ralph Wegman
Emily Lundeen *to January 2001
Pat Brooks *January 2001 to June 2001
Julien LeStrat *January to June 2001

2001-2002
Tim Verklan (Chair)
Helene Johnson
Maurice Taylor
Ralph Wegman
Julien LeStrat
Verna Cachene
Herb Sanderson *May to August 2002

2002-2003
Tim Verklan (Chair)
Mary Ellen Davis
Margaret Crawford
Julien LeStrat
Maurice Taylor
Helene Johnson

2003-2004
Tim Verklan (Chair)
Helene Johnson
Maurice Taylor
Mary Ellen Davis
Margaret Crawford
Julien LeStrat

2004-2005
Tim Verklan (Chair)
Helene Johnson
Maurice Taylor
Mary Ellen Davis
Margaret Crawford
Julien LeStrat
Don Hovdebo

2005- 2006
Tim Verklan (Chair)
Helene Johnson
Maurice Taylor
Mary Ellen Davis
Margaret Crawford
Julien LeStrat
Don Hovdebo

2006-2007
Maurice Taylor (Chair)
Don Hovdebo
Armand Thibodeau
Rosalie Daisley
Mary Ellen Davis
Elton Head
Julien LeStrat

2007-2008
Maurice Taylor (Chair)
Don Hovdebo
Elton Head

2008-2009
Armand Thibodeau (Chair)
Rosalie Daisley
Cecil Gooliaff
Peter Waldbillig
Jim Thiessen
Elton Head
Robert Georget

2009-2010
Armand Thibodeau (Chair)
Cecil Gooliaff
Peter Waldbillig
Jim Thiessen
Robert Georget
Elton Head
Joe Taylor
Rosalie Daisley

2010-2011
Armand Thibodeau (Chair)
Cecil Gooliaff
Peter Waldbillig
Jim Thiessen
Rosalie Daisley
Joe Taylor

2011-2012
Armand Thibodeau (Chair)
Rosalie Daisley
Jim Thiessen
Cecil Gooliaff
Joe Taylor
Peter Waldbillig
James Burns

2012-2013
Armand Thibodeau (Chair)
Rosalie Daisley
Jim Thiessen
Cecil Gooliaff
Joe Taylor
Peter Waldbillig

2013-2014
Armand Thibodeau (Chair)
Rosalie Daisley/Amber Hoffus
Jim Thiessen
Cecil Gooliaff
Joe Taylor
Peter Waldbillig

2014-2015
Jim Thiessen (Chair)
Peter Waldbillig
Amber Hoffus
Joe Taylor
Cecil Gooliaff
Armand Thibodeau